Deciphering an old plaque

We went hiking in Barcelona today. Hiking in a city, you ask? Well, not exactly in the city center, but well above its surrounding mountains instead--Collserola. Or at least as high as we could reach!
Once we've had lunch with these awesome views at our feet, we kept walking and climbing steps and steps until we reached Vallvidrera (a nice neighbourhood with pretty houses), and then we started to descend, past the now dried and empty swarm of Vallvidrera, and also past the FGC railway station and up, and we arrived to Vil·la Joana, the last residence of Jacint Verdaguer, a famous Catalan poet (which also happens to give its name to the Verdaguer square and metro stop in Barcelona, just in case you wondered).
I happened to notice an old-looking plaque on the floor in front of the house: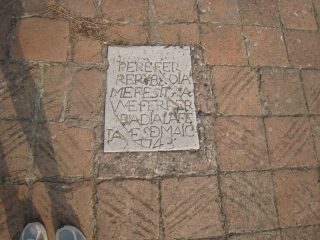 First I thought it would be some sort of tombstone, but the text didn't look solemn enough, although I didn't really understand what it said. Furthermore, I couldn't decipher some of the characters as they are damaged. I was so intrigued that as soon as I arrived home I tried to solve this mistery!
And I think I partially did it!
After observing the picture for some time I think this is what it says (click the image for a larger version if you want to follow along):
PERE FERRER Y BADIA ME FESIT JAUME FERRER Y BADIA LA FETA MES DE MAIG 1743
Now to the meaning of the inscription. A google search brought me to this book on ceramic tiles in Catalunya, where it says that ceramic masters signed some of their works with "Master Name me fesit".
Apparently "me fesit" means "made me". This, placed over a somehow rustic floor, and considering the plaque date, makes sense: "Pere Ferrer y Badia made me". This is the signature of the ceramic artisan that either installed or built the floor we were standing on.
But what about "la feta"? No, it doesn't have anything to do with feta cheese. I couldn't find anything on that, but I will just extrapolate and play etymologist for a day, and say that "fesit" probably is an old form of the "fer" Catalan verb that means "to make". Nowadays we still use "feta" as the feminine participle of "make", so to my eyes the "feta" in the plaque means that a certain Jaume Ferrer y Badia made it, where this "it" is feminine--maybe he built the house? This could make sense, as this official page states that the country house dates from 1743--exactly the same date in the plaque!
Having played etymologist, now it's your turn to correct me! Please let me know if I guessed correctly and feel free to add anything else that you can add. As for example who those men were. They seemed brothers to me, as they both share surnames, but who knows!?